Awakened
March 16, 2009
Darkness surrounds him as a pool of ink,
Incessant knocking becomes frantic but is ignored,
he flinches at the sound, the sound of ticking
it pierces his flesh and continues on.

The cool metal feels foreign against his forehead,
a single tendon in his finger screams,
Eyelids shut he waits, too calmly.

Piercing light, a golden drop of sun shines behind the two veils.
It cuts through the barriers, it brings change.

A gasp, images flood his head;
ringing as a failed attempt falls to the floor.
A kind word, a simple gesture, it does not go unnoticed.

Tears streak down his face, sobs wrack his body.
Sorrow,hurt, anger, joy, it overflows him,
threatening to overcome all sanity.

She bursts through the door in much the same state,
Roughly clutches him, embraces him.

Quiet follows, the static air is palpable with unspoken emotions.
Emotions, he can feel, his senses returned.
Feeling is better, always better than a void, of nothing at all.

Only time will cauterize the wounds of the past,
only love can heal.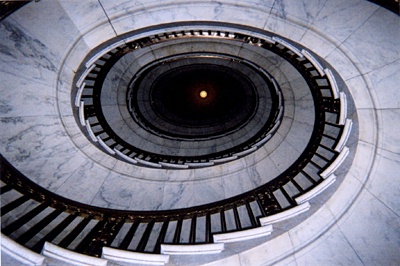 © Kyle T., St. Joseph, MO