and we laughed
March 20, 2009
we came limping and heavy
from a nine mile run
like seals.
sliding in the cold mud, the ground slushy and luscious with ice
the tips of grass peeking up from under it.
and a girl waited on the field, half-smiling with a white umbrella.
her eyes wavering from green to blue in the light
her cheekbones high and delicate. wearing a frilly pale sundress and sandals.
and we laughed.
because we were breathless and wild and couldn't feel the rain.
and didn't know why she held an umbrella in her hands.
and we laughed because the sky was gray and cold. it was only april.
so her sundress wouldn't get any sun.
and we laughed because
she was beautiful and lost.
and we didn't mean to laugh. because when you approached her with that lanky walk
dripping in mud, all bones and no hips
with wrists the same size as your ankles
we realized she was yours.
and that your funny hooked nose and gaunt cheekbones
shared the same teal eyes with the girl on the field.
your face was red. you followed her to the car
limping away.
and we were alone in spring
when the world is foggy and wet and weird.
and then a funny thing happened.
we felt the rain.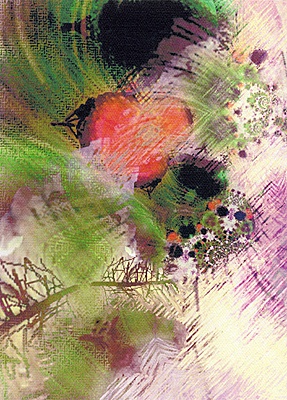 © Ashley P., Galesburg, IL