Exploration
February 10, 2017
The shop's door read closed.
He looked around and saw all the stone
that the building was made of, even the support.
He looked up and saw the clouds
strolling across the sky as the wind
intensified and rustled the branches.
He thought that he would branch
out and not have a personality that was so closed.
Something so simple like the wind
would bother him and turn him into stone.
He was independent like a cloud
using nothing as his support.
Sometimes he wanted some support
Like leaves hanging by an oak branch.
Sometimes he did not want to be that cloud
and wanted to have a very close
relationship with someone, one as firm as stone.
He did not want to be like wind
pushing someone away. He wanted the wind
to blow someone his way so they could be his support.
Sometimes he would be stone cold
like bare branches
naked in the winter. He didn't want to be so closed-
minded and wanted to accept ideas from the ground to the tips of the clouds.
He felt like a cirrus cloud,
so far from the ground and the community. He wanted the wind
to settle so he could float down easily and be close
to the fellow citizens. He wanted that support
from people that were not afraid to branch
out and from people that were the opposite of stone
cold. He went home and skipped stones
along the pond next to his house, watching the reflections of the clouds
move along. He kept glancing at the lake and saw the branches
of the trees shaking as the wind
picked up. He looked up at the tree trunk supporting
those many branches that were so close
to each other; close as the stone was to the water,
supporting one another as clouds passed
when the wind intensified and watched other branches from other trees do the same.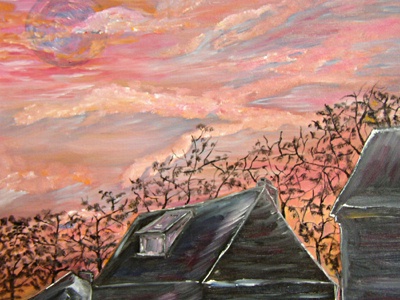 © Lauren M., Scotch Plains, NJ