Black White Brown And Blue
January 23, 2017
I cannot change the color of my skin
I do not want to change the color of my skin
Why should I be treated differently by my appearance?
Looks don't make a person
My beautiful BROWN skin doesn't make me a criminal
Its apart of who I am
What is it about my skin separates me from a white man or woman?
We are all equal
Or is that just what the law says?
You cannot preach what you don't believe
Does my negro decent put me on a path for failure?
A path of drugs and murder
Or maybe a path of eating fried chicken and watermelon  everyday…
If a black man is walking home at night with a rose in one hand for his wife
And his other hand in his pocket
Is he a criminal?
He's a black man in a black hoodie and sweatpants
Does that mean he's up to trouble?
If a white cop stops him and starts to question him,
Does it mean he did something wrong?
If the cop tells the dispatch that the black man has a weapon,
Does he?
If the cop calls for backup while claiming a gun is pointed at him
Is the gun really on him?
If the cop turns his body camera off and proceeds to pull his gun from his side
Will he fire it?
3 shots and another black man is taken from the black community
Did he deserve it? No
But did it happen anyway? Yes
Now the Black community has the blues
The deep dark depressing blues
A black woman who is now a widow and alone
Left broken
There is someone that isn't broken and upset
It's the white cop who shot her husband and got away with it
There is someone else who isn't broken and upset beside the cop
It's a little more than half of the white population
They care more about a monkey dying than the people they 
compared them to
How does that make sense?
If only the roles were reversed….
A black man with a gun
A white man walking home with a rose for his wife
The black man shoots and kills the innocent white man
Of course he doesn't get away with it
Next thing he knows. he has 6o years to life in jail without parole
Do you see a difference in consequences for the same action?
The color of your skin could save you or get you killed
But you cannot change your race
Being black is a blessing but gets treated like a curse
In my opinion, being black is the best curse known to men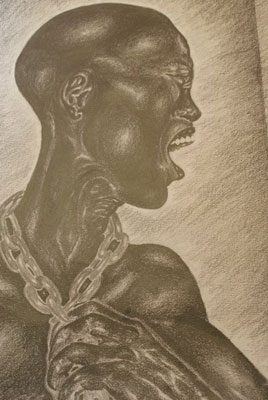 © Catherine M., Bronx, NY