The Devil
January 29, 2017
The Devil has green eyes and a lopsided smile.
He's beautiful, well did you expect anything less than so? He was once God's favorite angel.
He has a laugh that will make you weak in the knees.
The looks he will give you will send butterflies to your stomach.
Your friends will tell you to tell you to stay away from him, that he is far from good, but you won't listen. He will lure you into his traps, without you knowing that he's doing so.
That's what The Devil does, he convinces you that the sinning you do isn't really a sin, it's love. It's what you're supposed to be doing. 
He will tell you that you're beautiful, that you're all that he will ever want or need. That you're the only one has or will ever love. And you'll believe him too, you'll believe everything that he says.
Once he has you where he wants you; everything will change.
Goodbye are the sweet, soft words that he once whispered into your ear to help you fall asleep. They are replaced with his raised voice at three am.
He will no longer be the sweet boy that you once loved and adored.
That's when you will realize that the devil has green eyes and a lopsided smile.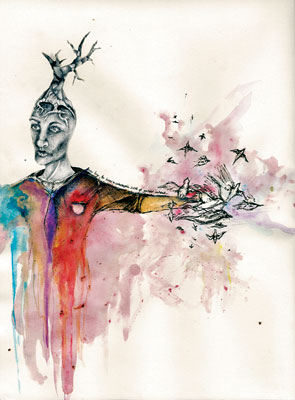 © Alice B., Sarasota, FL