She Is You; She Is Me
March 11, 2009
She's pretty much the ordinary girl,
Never knows whats next, head in a whirl.
The normal kind that hates her weight,
Never knows the date,
And hardly has her feelings straight.

She'll always forgive,
But she'll never forget.
She keeps a smile on,
Even if she's full of regret.

She's your love,
Your hate,
And so much more
She may even be someone,
you would never adore.

She can give her friends a good laugh,
She really and truely sucks at math.
She likes music, she likes to write,
She loves to see that boy in sight.

She'll be mean a times,
And start a riot;
And won't stop fighting,
Until the other is quiet.

She is very good at being invisible,
To just about everyone.
Yet still tries to find the guy that says,
"You shine like the stars and the sun"

She absolutley loves her friends,
But just can't wait for school to end;
During graduation, she'll be crying,
Almost so hard you'd think she's dying.

She has high-school years ahead of her,
Her beloved school of 9 years will be left behind.
She'll miss it so much, yet be so proud;
And when its all over, she'll try to hit rewind.

She will definetley refuse to say goodbye to all her classmates,
She'll only say "see you later" and hug them 'till their blue in the face.
She's never been known as popular, or beta club smart.
But, she holds everyone close to her heart.

She's the real girl, we knew from the start.
She's the one writing this poem, the one reading it too;
Just a simple girl writing about me, writing about you.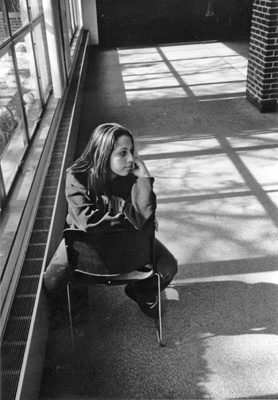 © Leighann E., Westport, MA