I Keep Going
March 11, 2009
No friends cheering, my loner self runs.
Muscles burning, feet aching, lungs exploding as I keep going.
I can't be last again; I won't be last again.
Not wanting to be here I look at the cheering mom.
'Go Beth you can do it.'
Her words echoed in my head.
Long legs are supposed to help, I push on.
Long legs don't help, I push on.
Cross-country is stupid, this loner is the slowest runner.
Long last the yellow flags signals finish.
Collapsing on the ground, I breathe in grass.
Slowest runner is not last; I smile knowing the cheering mother is pleased.

Muscles tense, feet nailed, mouth bursting with words.
No words will come out.
'Ah don't look at Beth your eyes will melt out.'
These words hammer into my body, they pound in this head.
Wanting to let out the anger, frustration, disappointment, this mouth stays shut.
Idaho no longer part of my life, this longer smiles, this loner is wanted.
Letting anger, disappointment, and frustration into the opening.
The victim took a stand, no longer a target.
Friends cheering me, I keep going.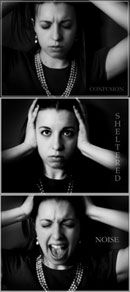 © Michelle B., Blairsville, GA