The Key
November 21, 2016
The key
Honor are veterans for what they do,
They won't stop at anything to fight for you.
They keep us safe and hold the key, this key
Is by no means free. Look around you
Don't you see they hold the key to keep us free.

These Men are heroes' can't
You see, they go through
Pain and loose what they love, all
To hold this sacred key not even knowing
You or me, they fight and fight
Through every night all because they believe
It's right.
They don't die for money,
They don't die for Honor.
They die for this key,
To protect you and me.
You may not think its
Fair, just remember how much they care.
We grow up to listen to America the
Beautiful and America the free, without
Our soldiers there may be, no you nor me.
These men are brave to fight the
Crave, the crave to keep us free.
As we sit at home enjoying our lives,
They sit on the battlefield to strive for their lives.
Every gun may fall every man may die
But they won't give up till they have protected
all our lives. We take freedom for granted
Not knowing the sacrifice, we enjoy are days with not
Even the slightest haze.
They do what they do for our red white and blue
So every time you see the flag don't forget
Each and every dog tag.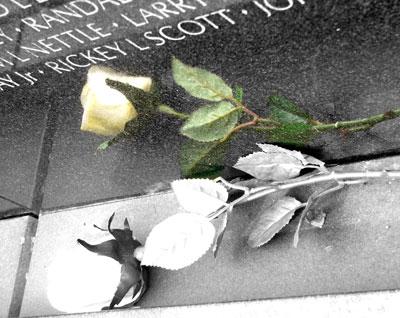 © Kimber E., Yorktown, VA