teacher says we live in the big green country
March 10, 2009
teacher says we live in the big Green country
this is what we pledge to every morning
america, america, God shed his grace on only thee?
i imagine, when the Great Artist drew his earth with color
He never dreamed we would tear it into isolated fragments,
holding a Blue here and an Orange where it belongs in the corner.
but still i pledge allegiance to indivisible Green
and for which it stands ' separation from Purple and Yellow
i wonder, in this nation of only Green
is there room for the Purple man from Mongolia
or the Yellow man from China? is the usa only us?
teacher says that's what wars are for,
penciling red borders so nothing touches, keeping color from color.
my country, tis of only Green I sing?
if teacher hadn't given me the words for this country
i would sing a tune for all. that is where my heart lies,
not in one nation, but in every.
when the color inside us is same as the color in our neighbors
we yearn for a colored world, not part of ourselves estranged from us.
i know a poet will never rule the earth
but i hope one day the colors will swirl into each other.
one day Purple will live with Yellow, Green will blend with Blue
our world will see its colors for once, alive together
and the masterpiece will be complete.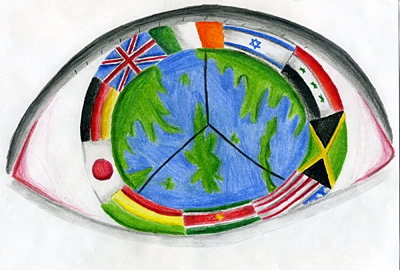 © Kelly L., Brooklyn , NY