The Worst Day Ever
November 8, 2016
It was Monday Morning
It was a depressing and gloomy day
Like always I got on the bus
I was bored, so I put my headphones on

I started listening to music on my chromebook
Then my bus stopped all of a sudden
And I lost my signal
So I turned my chromebook off and decided to put it away

Once I got to school and went into my classroom
I sat down at my desk
When my teacher promenade in, she had a very Bitter face
She looked at me and I looked away

I tried not to make eye contact with her
But I had to when she called my name
I quickly got up and saunter to her desk
She told me your homework is late

I told her I was sorry but she wouldn't listen.
I went back to my seat and thought
What else could happen?
I got out my chromebook, I opened up and…
Blare! Blare! Blare! My music went off.

I shut my chromebook and there was my teacher
Standing in the corner
She came up to me and exclaimed,
"Go out to the hallway!"

As I got up everyone was staring at me
I had a feeling that I turned all red because I was embarrassed
I perambulation out and she came out too
she looked at me and said
"Are you having a horrible day?"

Yeah, I could tell when I walked in
"I'm having a horrible day too" she explained
But next time remember to turn off your music
Then we went back into the classroom

I sat down and after that incident
I always remembered to turn off my volume.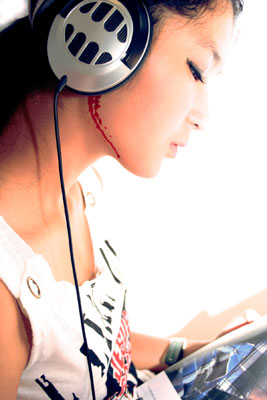 © Jiani L., Toronto, ON, Canada