Ode
March 6, 2009
Shh now, let's pretend we're movie stars

stand in-between the raindrops, arms spread

we should be black-and-white perfection


glorious ' in all your awkward adolescence
shh now,

pretty girl all whispers and sadness,

isn't that better?

Shh now, hold my hand,





-hold still, that's good-


don't worry, no one sees you,


your confused sexuality, the orange


tangled mass at your back, you wash


it clean every morning with one hundred


strokes of a pink razor brush

I'd set you free, little sapling,

here Thursday, all frozen and elegant


but I don't have that power,
I apologize. Just stand here though,

in the fragile raindrops

feel the water brush you silently &

watch your tired self ebb away.
Shh now, let us stand here and pretend
we're whispers, we're sepias, we're nothing,





nothing at all.


I remember you. I remember

but it was a long time ago.

Shh now, the stars are fading,

morning rising, this soft simple dream

beginning to rinse itself away. You cleanse me

with your suddenly young eyes ' the womanly shapes

underneath my skin, a pink punk sweatshirt


and faded blue jeans


my nails not black nor eyes particularly hurt '
and realize, this tall worn stranger

is one and the same

with you, the fractured present you worry like a stone,

until it is smooth, finally, some time far from now.
Shh now, as tears of recognition & relief fill your eyes

let me hold you calm inside my safe arms, and remember,


and remember, and remember.

(and still, when our dream has left, I will continue to remember you,
for all the pre-birth beauty you were

the fetal artist, the baby skin of your thumb,

the blue vein underside of your skinny wrist,

and the solid crook of your waist.
Shh, still, my sexual beauty,

watch and wait for your future, as I


wait for mine.
Shh, pretty girl all whispers and sadness,

let's pretend we're the night,

let's pretend we're the moon,

let's pretend we're movie stars.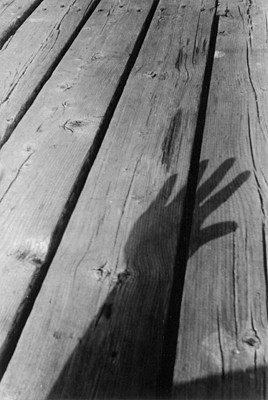 © Janet D., Marblehead, MA