When I look into her eyes.
March 5, 2009
When I looked into her eyes I saw a deep red soul of death and destruction; she looked back at mine and stared for awhile, she then asked why is my soul blue like water from the atlantic. I asked what she was talking about then like she didn't even know she had said that asked what are you whating about, I said never mind. We walked farther down the street, when out of no where she grabbed my arm pulled me close to her and then saw in her perfect green eyes that everything had changed, instead of death and destruction it was life; white light was shining on us through partially open clouds like gods grace was reaching down upon us. In her new soul it was birds singing and does prancing around; it was like she was a whole different person. It then started to rain as my face was so close to hers, are lips were nearly touching'. Rain came pouring down on top of us, but we did not move we stayed there gazing into eachothers eyes enjoying the moment as everything else wizzed by. I lifted my arm and pulled her face onto mine, we kissed, I opened my eyes in the middle of it, and for some reason her eyes turn blue; it was the most beautiful thing I had ever seen.

With the blue in her eyes I saw the blue sky from the sky below heaven. Heaven'.heaven is where the beautiful, soulful people go when they have discontinued their life'heaven is what happens when you have successfully figured out your life.

When I closed my eyes we stopped, and so did the rain; it was like that was meant to happen. I opened my eyes gasped and pulled her to the side walk, because a huge 18 wheeler was coming straight for us, I pulled her arm to save her life. When I grabbed her to ask her if she was alright, her eyes strangely were ANOTHER color, they were pink, she was so joyful that I had saved her. I was happy to do so, but my eyes don't change everytime something happens, it was like her eyes were some kind of mood ring, strange I know but what else could it be. We walked back towards the house, since life was taking us for a joyride'.whilst at the house I kissed her once more for goodbye when AGAIN her eyes turned back to blue I didn't want to be rude and ask what was the matter with her, because I didn't want her eyes to turn red again. I said goodbye and her eyes turned black, but then said I'd hopefully be back in two days'..all of a sudden I stared deep again to her eyes they flashed the rainbow and then stopped at yellow, and then she said goodbye.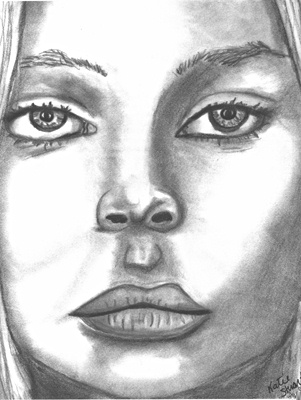 © Katie S., Naperville, CT