I Believe In The Air Force
September 30, 2016
I believe in this Air Force uniform because my mom has inspired me from day one of my life to want to be in the military. I plan to join the Air Force May 13, 2017. I plan to do 20 plus years in the Air Force to protect my country. I want to be a jet mechanic. I will travel the world, to go to cold and snowy Greenland and warm Iceland. I will to give a monkey a hug in Spain. I will to ski in Germany. Through the Air force I will experience life in a whole different way. I believe in this uniform because of all the sacrifice that is in a person who wears this uniform or any military uniform of any kind. This uniform represents sacrifice for this country, hard working, time, dedication, and commitment. I grew up knowing that my mom was a super hero. " Super heroes don't wear capes, they wear dog tags."- Author Unknown.
My mom sacrificed so much for this country and I plan to do the same. I remember making a welcome home poster for my mom that hung from my huge sliding glass door. I made this poster with my second grade class. Third grade,my class and I wrote letters to the soldiers for Christmas and Thanksgiving for my mom and the other soldiers that had been deployed overseas with my mom. My mom wrote a letter two weeks later thanking my whole class for writing the letters and she mentioned that all the letters had been hung up in the dining hall ,at the base in Iraq that they were stationed at. All of the other soldiers also wrote individual letters to all the students thanking them personally and sharing some personal stories with the students.
My mom use to send me a lot of cards while she was deployed places. She sent me cards for when I was sick, for my birthday, for the holidays and when I did something good at school. She also sent me drawings that she did when she missed me or was thinking of me. She titled all her envelopes in the corner as "free mail." I have postcards as well from the places she had been along the way to where she was being deployed to. I also have letters from family members that wrote to my dad and I while my mom was deployed.I still have all of these cards saved and her little doodles she sent me as well in a memory box.
I remember putting a flag in the kitchen window at our old house, that would represent support in my mom and in the military itself while she was deployed overseas. Whenever we put that flag up, our neighbors would stop by asking if we had heard from my mom and how she was doing. That flag was up from the day she left till the day she came back. The flag was a symbol that represented a signal saying men and women are overseas right now fighting for our country and to keep them in mind and in your prayers.
Another memory I have is the necklace I am wearing right now, I got it when I was 6 or 7. My parents and I had an early dinner and my mom said she had something for me I just had to take a shower first. So after I took a shower my mom told me that I had to go get in bed before she would give it to me. When I finally, got in bed she came into my room with a square black box. She opened it and in it was a necklace, it was two hearts connected one heart was larger than the other and said "mommy" on it and the other one said "me". She told me that no matter where she was, she would always be with me no matter where she was in the world. She put the necklace on me and the next day she woke me up in the morning got me ready and we went to the base, she was deploying overseas again. I have many memories of getting up early in the morning and getting ready and going to the base to say goodbye to my mom. I also have the memory of going to the base in the afternoon after she had been deployed for some time, to go get my mom from the Buckley Air Force Base.There was many times that my mom was gone for months to years.
My mom sacrificed her family and raising me for the freedom of her country. I don't blame her for what she did but I thank her for what she did. I am willing to do the same thing she did, I am willing to sacrifice my family for my country. There is markings on the wall at my house of marking my height and how much I grew while my mom was deployed. The longest time she was gone a year and a half.
My mom also donated a flag to my old elementary school that was flown over Iraq and is now in a case in the front office of the elementary school to this day. The day my mom donate the flag she put her dress blues on and the press was there. I still have the newspaper and picture with her and I standing next to each other.
One Christmas, when my mom was gone, my dad and I set up a pathetic tree that would represent our christmas tree. We even put lights on it. On Christmas day I woke up and was so excited because I saw a moose stuffed animal and was super excited because my mom sent it from Iraq. My dad then pointed out to me that it was not a moose but it was a camel, that's how my camel got his name " Moose". My mom laughed so hard when she heard the story.
Through my childhood I have learned what a sacrifice my mom made for this country. She has inspired me to join the military. I know that it will be hard on my future family and on my mom but I know it will make many good stories. Im joining to help protect this country and our freedoms that we have.I plan to sacrifice everything I have for this country and what I believe in. My object is camo uniform. A uniform that represent honor and bravery. The uniform is clean, well pressed and appealing to the eye. The uniform has many pendants on it, one for my name and others for what I have done. This uniform has a 7 level maintenance patch. This uniform also has a tech sergeant patch on it. This uniform shows that it belongs to a person in The Air Force.This uniform represents my future in life, a possible career path. " For those I love, I will sacrifice for." - Author unknown. Believe in those who sacrifice all for you, don't take those people for granted.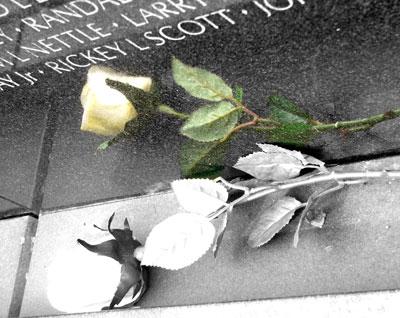 © Kimber E., Yorktown, VA