The Ballad of Seargeant Bill
March 4, 2009
Sergeant Bill was a new cop in town,
He always said to the bad guys ' You're going down!'
And then one day, right out of the blue,
Fell from a rooftop, a bright yellow shoe.

Now the house that it fell from was far from clean,
It looked to him like something from a dream,
All dull and dreary, the lawn unkept,
The cobblestone walkway made him watch where he stepped.

Over to his right was a long, blue bench,
And coming from it was a horrible stench!
He searched 'till he found a brown, paper bag,
That was sitting on top of a dirty, old rag.

He took a seat with the bag in his hand,
There was a tiny hole in the side where out poured some sand,
He reached up and clasped his hands on the top,
Then pulled apart the bag with a sickening shlop!

He peered inside and two eyes stared back,
These eyes belonged to a Diamondback!
But Sergeant Bill knew not a thing about snakes,
He only thought he knew they liked cakes.

But this snake was not interested in cakes or a treat,
Obviously, it was hungry and wanted to eat,
It just wanted something larger, a main course,
And that was, you guessed it, Sergeant Bill, of course.

It shot out and bit him on the side of his neck,
He thought, ' They're not poisonous, so what the heck!'
But it turns out the snake was poisonous indeed,
And that's why he lay on the ground as dead as a weed!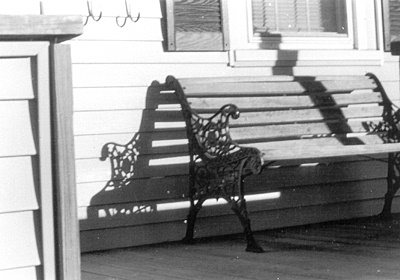 © Lauren O., Weymouth, MA