What if?
March 3, 2009
What if heaven or hell didn't exist?
Would our sprits walk the earth and never get peace?
What if there was no good, only evil?
Would we be living in a world full with deaths?
What is high school had no rules?
Would you bother going to school?
What if life has no meanimg?
Is there a point to live?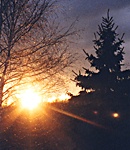 © Christy S., Germantown, NY