September 11
September 13, 2016
An object floats down delicate as a feather,
off a tall building in the sky.
When will its shadow hit the ground?
Everyone stands watching, wanting to help.
But no one can, they all think sad thoughts.
It won't be long before it comes close.
Watching while it falls up so close,
a bird flies by losing a feather.
They are far too scared to have any thoughts.
Behind them, dark and dreary is the sky.
They've cried and cried out for help.
People just stare, up from the ground.
Others fall too, waiting to hit the ground.
Their existence being tested, coming to a close.
People come but it's too late for help.
The people from below see them small as feathers.
All of the falling are flying for a moment in the sky.
They all wish they had an idea. Any thoughts?
Taking in the situation they search for thoughts.
Their once happy lives, no more, eye the ground.
Public faces numb, cold, and blue as the sky.
Their fates in the hands of God, but God's not close.
The horizon gazes at the feathers.
No one has power, no one can help.
Not even God. He's too late to help.
They all wait, sinking, free of thoughts.
They don't know they look delicate as feathers,
they just gawk at the ground.
Nearing the end it's coming close.
Falling farther and farther from the sky.
Looking up, they only see sky.
Knowing there is no help, but still wishing there was help.
The last of their lives moving in slow motion. Very close.
It's no use to think any more thoughts.
Almost hitting the ground.
Soon there will be no more feathers.

The shadow is way too close. Even God had no thoughts.
Blue as the sky. Why wasn't there help?
Bodies hit the ground, no more feathers.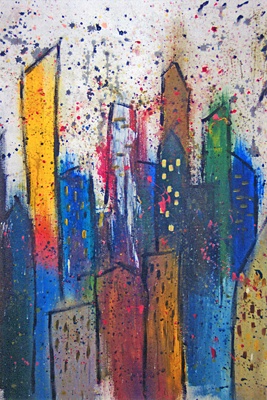 © Chase C., Centerville, OH