Stars and Stripes
September 2, 2016
5 A.M.
Incessant beeping, a groan, and a rush to grab tennis shoes.
Water bottle isn't filled, oh well.
Leaning on doors to open them while rubbing the sleep (or lack thereof) out of barely open eyes.
6 A.M.
Panting. Wheezing.
Don't give up. One more.
7 A.M.
That wasn't nearly as bad as it could have been.
I wonder what's for breakfast?
Just kidding, still 12 pounds over.
8 A.M.
Nap time.
9 A.M.
Is nap time really over?
I really hope both shoes are dry. Last night really was a killer.
10 A.M.
Both shoes were still soaked, but it didn't matter, because they got soaked again within 10 minutes.
Panting. Grunting.
I hate this sport.
11 A.M.
Love food.
It doesn't love me.
Or, at least, the scale doesn't like me.
Practice doesn't either. Can't feel a thing.
12 P.M.
The day is halfway over and the blanket still caresses my dead legs.
Tried to watch that new video that she said was funny, but I fell asleep before it could load.
Therapy sounds really nice right about now.
Too bad I have no money for it.
1 P.M.
Nap time.
2 P.M.
The Olympic Committee has videos on recovery?
For FREE?
You'd think that the coaches would have shown us some by now. That is their job.
Actually, their job to see the Stars and Stripes hang from the rickety rafters of a foreign arena.
Arena is a real stretch of the word. Gymnasium or large storage shed are more accurate.
3 P.M.
Maybe people at home wonder what it's like here.
They probably think it's just dandy.
They only see the videos and pictures we post at this time of day.
No one would dare take their phone into practice to take pictures.
4 P.M.
Trying to sleep, but succeeding only at closing both eyes, not at the same time.
I hate this sport.
5 P.M.
I hate this sport.
I really hate conditioning.
I especially hate when "one more set" ends up being a lie.
6 P.M.
Downblock. Sprawl. Shoot.
Duck. Pop the elbow.
Shoot.
Shoot. Downblock.
Time. Shake your legs out.
Ready...go!
7 P.M.
Is chicken or yogurt better for recovery? Do nuts have too much fat?
Does peanut butter have too much of everything?
Eat leafy greens, they said. It'll be fun, they said.
8 P.M.
Partner massages are heaven. Once I finish getting massaged... I'll... go...zzz....
Two Weeks Later
10 A.M.
I hope I prepared well enough. Did this girl go through the same training? Maybe she got better?
2 P.M.
So much effort to go into less than six minutes.
That was close. I'm probably going to lose this next round.
I'll never win.
I hate this sport.
3 P.M.
I love this sport.
4 P.M.
"How did you do it?"
I want to thank my family for parting with me for months on end, my coaches for killing me *laughs*, and my partners for making me better.
"What's next?"
I'm going to go home, eat a lot of junk food, and do it all over again.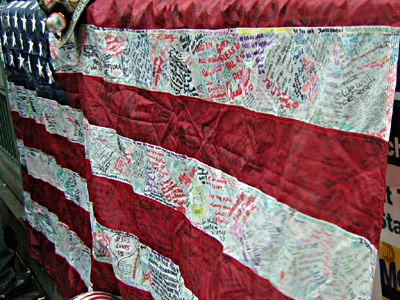 © Brittan S., Chino, CA