liquid
February 28, 2009
It always sucked him

And it forever will

No matter who tethers it up

And soaks it in hot water

Letting the warm liquid cascade down

Down

Down

He will always hear the sound

The sound his mind goes crazy for

The noise that is captivating his sanity.

'drink me'

It whispers tickling the mans ear.

'I shouldn't' he moans softly, salvia rushing to his dry mouth.

The pleasures inside himself running through his body

Like

Electricity

On fire.

His fingers uncurl from underneath his clenched fist

'drink me' the liquid taunts, speaking with absolutely no sound

Moving with no motion, wanting with no remorse.
The mans hand lazily reaches towards the speaking bottle

Trembling with fear and excitement. Excuses already seeding in his mind.

'drink me' it speaks again, the condensation refreshing and cool

The tired man reaches for liquid

And tightly wounds his fingers around the cold refreshing bottle

He lifts it up to his mouth to drink

Then stops

the man remembers

He remembers that night

With screeching tires

With screams

With blood

And death

'NO' he softly speaks to himself and to the bottle clenched in his hands

He calls to mind that poor young girl

Drenched in red blood

Crying for her mama

A mama that would never get there in time.

And would never see her baby again.

' NO' he speaks louder slamming the bottle down
His eyes tearing up from the memories.

He remembers that night.

But most importantly

He remembers it could have been prevented.

Down

Down

Down

The tears slide from his face

He catches them with his red tongue

Savoring the salty taste as the terrible images rushed to his

Open mind.

'drink me' this time a sound of regret and sympathy

Was in the bottles voice.

'I beg of you' it pleads 'drink me'

The man full of sorrow and regret drank and drank and drank

Away that liquid until there was absolutely

No

More.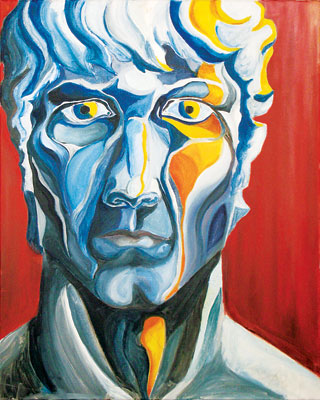 © Michael R., Cambridge, MA