Summer Grapefruit
February 28, 2009
The little tree seems like nothing
Compared to
The towering tree that casts
Shadows on it's leaves.
Yet it still has as much fruit
as a tree twice it's size.
I pick a grapefruit from it's
Mant branches
Then retire to the swing
to eat the grapefruit like
a orange off my backyard tree.
To eat grapefruit you must be gutsy
allowing the sticky juice to flow
down your arms and onto your shorts.
I smile at my many quirky citrus trees and watch the sun and the pink sky fade to night.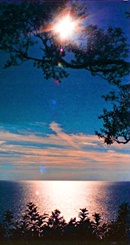 © Crystal B., Gresham, WI