Xann's Allegory
August 22, 2016
" Satellite, encircling the hollow shell
Magnetic shields she wore
For ambiguity represented her.
Rusty ferrofluid satellite, blithe back
Elated now, as the shields woke up
its core
Meanwhile the shell was still as devoid as it were.
Upon one tarnished night, behold
While the dome was scintillating
And the waves got dissipated
Blackened onyx (yet oh-so-comely)                                      Rusty ferrofluid, cracked the shields. 
And all guards have fallen to its knees.
Obsidian and murky, rusty fluid stained the chassis —
Exoskeleton of dreams, one's shelter of fantasy
Asylum of an unknown refugee.
Lucid and plenary, she's awaken
Cynical at first, enticed shortly after
Too dazzled to notice the disaster.
Mercurial charcoal, never concrete
Smudged the ivory shell
Broke the pietistic spell.
Stained her down, stained to the core.
Waiting and lingering, she hoped
To find a way to keep the dark essence just for her.
One dusky night, as she awaited
While the stars were vanished and the atmosphere asphyxiating
Eastbound onyx started drifting

Her heart started slowly sinking.
And she grieved—
She wailed, she dripped
Cause her aim was strayed, and her blind faith chained
To the dreams left unobtained. "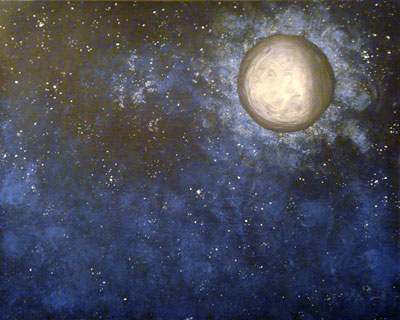 © Allison H., Vancouver, WA