The Stairs That Lead Nowhere
July 11, 2016
The wind that blows in the wrong direction.
Haven't been freed in a while.
Every day it rains on my cheeks.
Sighing, crying, lying and dying.
Tilting the scales.
Always awake at night, seeing through the darkness,like I was born in it.
I'm searching for the stairs that lead somewhere.
Rigid paths that leave me clueless.
Sorry of everything I've done, I can't take them back.
Though I'll try, and I'll try my hardest, to make up for it,
Having no clue how but I'll find out.
Angry at the person who's looking back at me in the mirror, one word monster.
Though I'm bleeding, I'm not giving up yet.
Leading myself by the hand,
Everything going missing nothing here.
Always out of line, always out of time,
Doing things wrong for eternity. 
Now I'm here, at the first step, then at my last.
Out of time, out of my mind, on my last life.
Wearing down the rope, that holds me afloat.
Have you been to the land of lost dreams, I'm there you see.
Erasing the memories of the bad times, is that cheating?
Reversing my life starting it all over.
Every flight of stairs I take leads to nowhere.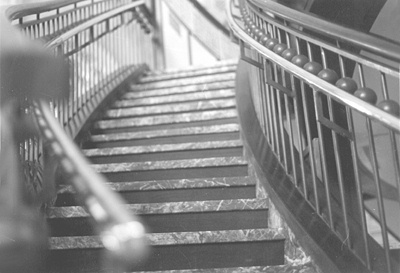 © April P., Marblehead, MA