Abused and addicted to him.
September 25, 2008
She deserves a poem.
Her freckles construe any doubts about a dubious character and that smile slaps you for earlier angry thoughts.
Eyes that twinkle elfishly, for lack of a prettier word, eyes that believe the world is going to end and just begin all at once. Teeth that shine in the soldier button and sashes, always similar pattern, front for more attention.
Girl of an unusual mold, girl with a catholic upbringing and a strict way to dress.
I've seen inside her closet, where she keeps her peer pressure t shirts and her jealousy dressy tops.
Hair that lights the match and invites you into the blaze rising upward.
She steps above the flames in her purple high pumps and trips over a metal gate. Blood streams down her puny shin, eyes that gasp at any obstacle that dares challenge the ring of fire.
Girl does good and girl sits in sad.
Girl never learned how to cope. Her mouth sped fast when puberty opened doors and now the world is behind too many mountains. Girl can't reach her flame, girl no longer remembers how to feel the right touch.
Eyes that glisten with surprise; betrayal is a familiar feeling for so lost of a kind. She pumped her purple pumps into an army of shut eyes. They hold their boy's hand and believe the fire will return.
I'm scared for her because her hair keeps changing color. When the day starts in the uniform and not the same person, notes ring in discordance. Buildings crumble to the ground. My fingers lose any grip on the red headed disaster.
She is dying and unaware.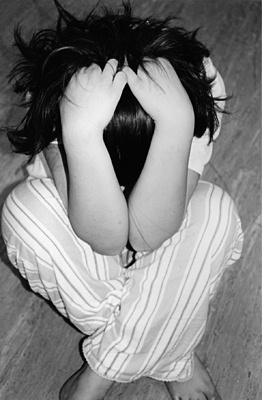 © Emma L., Wyckoff, NJ