The Little Girl With Big Hope
February 18, 2009
While the rest of the people slumped their shoulders and let the tears fall,
She remained in her seat `til it was time to get up and stand tall.
Walking with poise and grace as if nothing could touch her,
Never thinking about all the pain he once endured and suffered.
Unraveling the paper that stood safely in her pocket,
Reminding herself of the loved one that was pictured in her tiny gold heart locket.
Mustering up all the perfect words to write,
Causing her little fingers to work throughout the night.
Realizing that the treatments and cures were all just a big lie,
Praying to God everynight 'why just why'?
Feeling the damp spots from tears so tired from staying up so late,
This poor little girl was only eight.
Projecting her words from a microphone so brave and loud,
Causing people to stare at her with wonder from the crowd.
'I know all you people mus be really upset `cause my daddy just died,
I can see some people crying, that's what i did when i found out just cried, cried, cried.
But I know my daddy I know my daddy is in the place above,
So now I have to be good `cause I got a guardian angel, my daddy who I care about and love.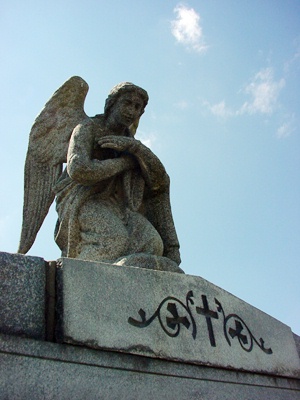 © Greg K., New Lenox, IL