A Jar of Ink
MAG
April 16, 2016
"Oh, there's adventure out there!"
I was told long ago,
of ships and sails that scaled the sea
as the night stars were low.
"Oh, there's a story out there!"
I told myself I'd find
the words I'd capture in a jar
and set loose in my mind.
"Oh, there are people out there!"
My first steps into school,
each person was a meter stick,
each teacher was a rule.
"Oh there are dreams still out there!"
I set my course at sea
to make a path, a way to them,
a way to set them free.
"Oh there's a future out there"
I murmured sitting down,
The page before me was my land,
The pen, my inky crown.
"Oh, there's somebody out there!"
I happily believed
that each of us would find one soul
whose love would be received.
"Oh I'll find myself out there."
Beside the sea I stood,
My thoughts, they were the clashing waves,
Would they do any good?
"Oh, there's a light just out there."
I strained my eyes to grasp
The torrents filled with murky shapes
my breath, lost in a gasp.
"Oh, there's adventure out there."
A jar, my empty hand,
for all the ink and all the stars
are lost amongst the sand.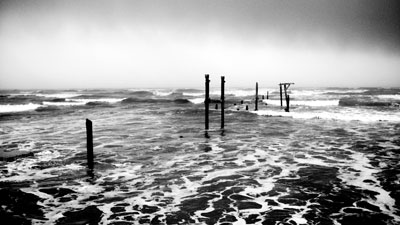 © Harrison L., Ruston, LA