Ode to Basketball
February 23, 2009
The gym is full,
loud,
and fun.
Cheers from everyone
bad and good.
We run out
pumped up,
ready to play.
The ball is ours first.
We don't start
out so well.
The other team
scores.
We answer right back.
A fast break an
a shot.
2 points
added to the score board.
A time out is called.
30 second rest.
A talk from coach.
Still strong.
Still tough.
up by 6
Half time.
Locker room talk.
Write down what we did
all the good things
and the bad.
Make sure you listen.
Coach is talking.
4 minutes left of halftime.Run out again and
get some shots up.
3rd quarter starts
8 minutes on the clock
set up the offence
do it right
pass to the high post
back door-
jump shot.
2 points.
Get Back, Get Back
D-Fence
get a steal
fast break
triple threat
shot goes up
a foul is calledgo to the line
2 shots are given
get the ball
focus
perfection
balance
strength
both shots made
back on defence
pick 'em up
no last second shots
bzzer goes off
loud and
clear
the crowd screams
and claps.
Teams shake hands
and head to the lockerrooms
One last talk
from coach
for the night
Enjoy the win.
Go home.
Get some rest.
And drink enough fluids.
Come back
next time
ready to play.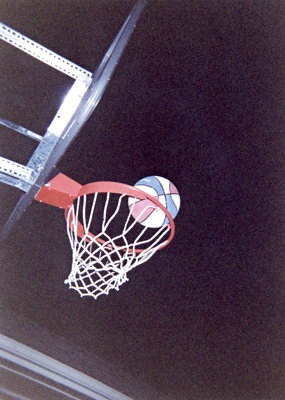 © Laura P., Highland Village, TX