What Happens When Gold Apple Grains Step Into Light
February 21, 2009
Through hope
black smoke rises
and juicy apples fall.
The little raven nudges my ear
as gathering stars slide into place.
Bearded ideas
swim in clouds of sunny laughs
that are followed by angry streaks.
Though nothing
solves the wonder.

Through dream
I see spiraling stairs
and they step up
but I turn down.
Beneath the case
sits a holy secret
of catastrophic events held with blue rubberbands.
Falling feathers
Audacious behavior
used to spin me out of control.

Through desire
lies desperation.
Flaming dances to silent music.
Five seconds of luxe, sweet trends.
Bright-colored mesh and plastic alligators
made to cause giggles.
The exotic places
containing fabulous t'te-'-t'te
between many electric souls
growing to cumbersome lengths.

Through rouse
awkward shifts and irritating music
push me into realms of the conscious.
Once my vision returns,
I am greeted by a posy of sharp roses
that prick my fingers.
I watch the tiny drops of dark red
fall to the cream carpet and ruin.
For the fraction of a second
The wall ruptures and cracks.

Through wake
sometimes moments will be lovely.
Bright light flowing
Muffled secrets blooming
When I realize I have risen
to a wonderful new day.
I slowly shift my legs
into a curving C
My back yawns with joy
and cries methodically.

Through rekindle
wondering what the day will bring
Like the philosophy
of a doxy's strange journey.
Adjacent to my mind
a cloud or two will form
away from the singing bugs downstairs
and push me back asleep.
But only I know
that sleeping is a dream.

Through nothing
comes everything.
Like solid gold roses on circles
passed down from a sweet sixteen
skipping one garden
and seeding another.
Or perhaps the innocent boy
with chocolate-brown curls around his face
laughing into the old day
that is now lost among the hate.

Through everything
comes nothing.
A thousand grains of sand whispering in the wind,
A million countless thoughts webbing into one,
A billion ugly faces spitting out their hate.
Destiny is buried underground
But the gadfly can rest.
The susurrus of my steps is starting
right now
And will forever continue on.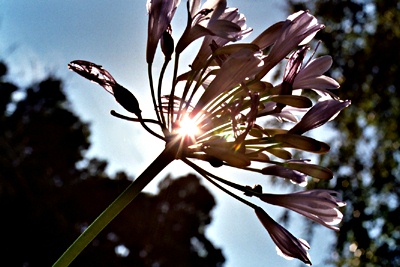 © Brandon W., Redwood City, CA