Pain of the Wars
February 21, 2009
Love is like the wind,
You can't see it but you can feel its breeze,
Love is like the sea,
You experience its waves while it sways you with ease,
You are like my dream,
All made up but never thought real,
And you can fill me,
Like a beggar given a good warm meal,
While wars rage around us you tell me things will be fine,
Yet blood is being shed the color of deep red wine,
If you and I can live in such harmony how can others not?
Why can't we forget our differences and the battles we once fought?
As you pack your bags and leave me home I pray you'll be alright,
But deep down I know that you might not come home from this fight,
Once a week I get a letter telling me how you've been
And every week I tell myself letting you go was a mortal sin,
The day came when you did not write and in my heart I knew the truth,
But then a letter came addressed to me and it was written proof,
My heart burned of the news that was clutched in my hands and I could not bare the pain,
I fell to the floor with waves of reckoning and tears like soft salty rain,
He was my everything the key to my heart a truly remarkable man,
How could I not know it was too good to be true when this relationship first began?
I feel like my soul is dying like the colorful autumn leaves,
The loss of a loved one is so much harder than an ignorant human perceives,
How can I live when I know he's not there to hold me when storms get rough?
How can I stand the thought of him gone just when times get tough?
Months later my heart is still lost and remains on the cold wooden floor,
Then came a knock and a ring of a bell from my black mahogany door,
I don't wonder who it is for I've seen enough mourners and I thought I saw them all,
I open the door and see a ghost and once again I fall,
On the step is the man I presumed dead how could this reality be?
I thought this same man had an accident and was forever lost to sea,
As strong arms rap around me I'm reassured it was just a mistake,
I pinch myself once and once again to see if this was indeed not fake,
Yet I don't believe it for I don't want more pain when I finally awaken,
But I realize that he is indeed real and I thank the Lord he was not taken,
Tears of contentment flow down my face as I embrace my true love at last,
I will share all my waking days with him and forget the horror that past.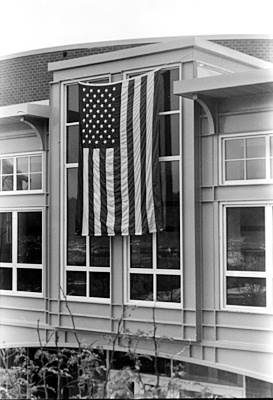 © Chuck K., Marblehead, NY