Flower Mortality
MAG
March 10, 2016
In the crowns of the trees above the river
In the fields of platinum snow
Down memory lanes which lay withered
Where wanderlust feet wrongly go.
There's a view at the end of horizons
The sky pouring kaleidoscope blood
Drowning in sorrows like quicksand
Mixing with tears to make mud
Everything, everything dripping,
Like paint on a canvas too wet
Blurring the lines between heaven and earth, like
Drinks too strong mixing Hope and Regret.
So be it the Rain making harsh edges softer
Or be it Ether or Gin,
Dancing between our birth and our coffin.
One foot stepping to god, one trotting through sin.
Like prisoners stepping in shackles
In circles, in circles they spin
Like a carousel, starting and ending
At discretion of God's venal will.
Golden lights of the haloed street lamps
Flash at electricity's speeds
Through the puddles that litter the sidewalks
Just to water love's voyaging seeds.
I'll pick these seeds off the pavement, my darling
Aware of their limited time
They will bloom, nonetheless, with dignified beauty
Striving to flower – not just to survive.
Humming an ode to moments
To time passing on all too fast
The secret to the magic of sunsets, my love
Is their in-born impotence to last.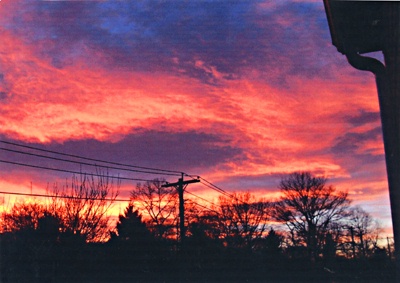 © Robbie M., Milford, CT