Her Heart Just Knows
February 14, 2009
Time has flown by without a chance to slow down,
I've lost who I use to be and found who I am.
Just a girl who was smart,
a plain Jane compared to the rest,
Now an "in love" teenager letting a senior get her best.
Being used is not okay,
but in this situation,it is,
She just wants him to like her,so she can be his.
Everyday she walks past him and takes a glance,
Wishing that she could have the chance.
To show him her real side,the girl that no one knows,
But he's not interested in her feelings,he wants more.
Selfish as he is and as mean as he can be,
She just wants to be loved by him,then she'll be happy.
And the girl just knows down deep in her heart.
They're meant for each other,to not ever be a part.
But in July she'll see him no more,
And surely her heart will be torn.
Maybe some lesson will come out of this hurt,
Not just a few poems,or some meaningless words.
She wants him to go to college,and look back on this year,
And remember the girl he left waiting here.
The one too young to know about love,
Always stuck at home remembering the night their lips touched.
That night for her meant everything,the world,
But he probably forgot it,just thought about getting more from the girl.
In May she leaves school with a frown and a tear,
Knowing that next year she won't see him here.
Gone off in the big world to start his new life,
She wishes she could have more time.
But this girl knows down deep in her heart,
To grow closer to him,they have to be apart.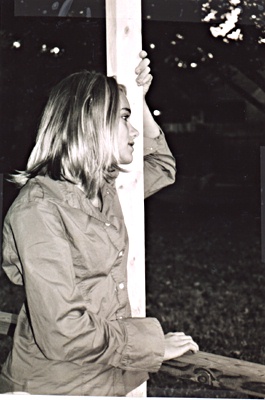 © Tiffany A., Southaven, MS