Change Has COme
February 12, 2009
The Bird flits around
Unaware of her surroundings
She takes a flight down from her tree
And lands on a slowly moving elephant next
To a Donkey
A rare occurrence indeed.


The Bird lands on the elephant's back and sinks her claws
Into its flesh.
She hangs on for the ride of her life.


The Elephant, The Donkey, The Pig,
The Birds, The Fish, and the Moles
The Alligators and the very earth
In Harmony as the Bird makes her soft, smooth landing


The change in the air is apparent
All the residents of the forest come out to see
The Bird, The Elephant, and the Donkey.
Together next to an olive tree


The Bird flies up,
She grasps the olive branch in her claw.
The Elephant and Donley circle the tree
The Bird surveys the scene


Up in the air,
The Bird's flock flies away
But the Bird doesn't lift a feather
Doesn't fly with the flock
Because Change has come
Because Change Has Come.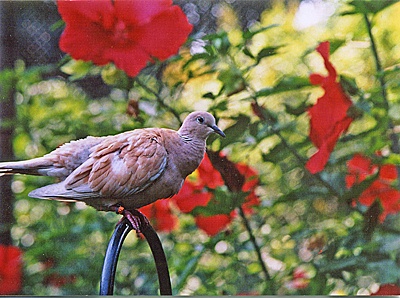 © Charlotte H, New York, NY