Lover's Story
February 11, 2009
"Claeren, Claeren
The name means Snow White
And is given to the daughter of
Mother Nature herself.

Claeren, Claeren
With skin as white as snow
Her hair the whitest blonde there is
And eyes asw gray as clouds

O Claeren, Claeren!
Come down there from your tower
And let me see the beauty of
The Mother of the Winter!

I come from lands so far away
Let me not be disappointed
I come to see the lady fair
Daughter of the Nature!"


"Why do you ask for me down low
And what makes you so special
That I should come only for you
Despite all other callers?

I've turned away a thousand men
Who knew not how to answer
So tell me, you of noble heart,
What makes you so different?

What makes you so special
And why should I come down
From my cozy palace here
To make you pleased down there?"


"Lady, I am not so great
As you seem to wish for
I am not strong, nor smart
or brave, I'm merely who I am.

So Claeren, O Claeren!
If fame is what you wish
If courage, strength, or smarts you want
I will gladly go obtain them.

For while I may be a mere man
Mot famous in the least
I, Sir John of Terra Neirce,
Am faithful to the last!"


"Brave knight, Sir John,
You need not go and do all those great things
For I am quite happy with you
A man whose faithful and whose true
And glad will I be to see you."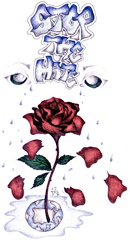 © Diana G.,Phoenix, AZ