Running.
February 1, 2009
I keep running;
through a golden field,
bare with the exception of some sorry trees.
Behind me are men, huge men,
with big guns too.
I keep running;
feeling tired, exhausted.
I want to stop,
I can't stop.
I keep running.
A woman and her child appear
in the corner of my eye,
they get shot down.
I keep running;
running for my life.
It feels like I've been running forever,
I suddenly see a fence.
I climb the fence and see a tent,
a huge tent with many layers.
I climb inside,
I catch my breath.
The smaller man crawls in,
lost within the many layers.
I prepare myself and lunge,
stabbing the only two pens I am armed with
into the areas where he sees.
My force startles me,
I hear bones crunching
and a thud as the man goes down.
I pull the pens out,
waiting for the bigger man.
He comes,
I charge,
stabbing fruitlessly at his stomach;
his muscles keep me out.
Stunned, I lose my thought,
the man pushes me down to the ground.
I quickly jump up,
stabbing a pen into his right eye.
He yelps and whines,
asking me why I did so
but otherwise he is still up.
Still in shock, I run out
only to be blocked by a tall cement wall.
He is coming
closer,
closer,
closer.
Nowhere to go,
fear floods into me,
deep into my bones,
into the gut of my stomach,
a sour feeling of unease in my heart.
I awake with a staggering jerk,
I don't know where I am.
Bright colors on my walls,
I realize it was just a dream,
A nightmare.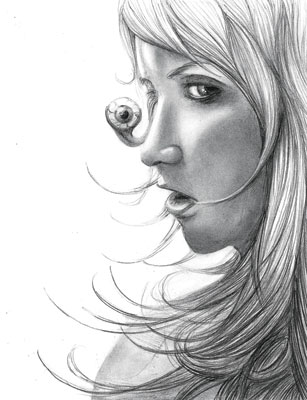 © Jessica P., Bethel Park, PA