Surfing
January 30, 2009
I can still remember those fresh summer nights,
the open window allowing the cool breeze to blow back our long hair.
We drove over that same bridge,
our sporty sparkling- red car sticking out among the minivans around us.
I hold the leather steering wheel one- handed,
using the other to crank up the volume on the latest tunes.
My favorite song comes blasting through the stereo,
and we both sing the words we know,
and even the ones we don't.
Having a need for speed,
I step on the gas and the car accelerates,
and the engine revs.
We both burst into laughter,
making our huge sunglasses fall below the middle of our noses.
Beach sand appears on the side of the rode,
and the salty ocean smell could be distinguished easily.
With the top down,
I could feel the summer night breeze on the top of my head and all through my body,
giving me goose bumps.
We parked by the side of the rode and took our surf boards from the trunk.
We would start to jog down to the water,
the soft sand giving me pleasure under my already water- logged toes.
Then the waves would crash on us,
and we would taste the awful salty water when we licked our lips.
Those would always be my fondest memories,
the ones I can still sense the most in my mind,
the ones I feel the deepest in my heart.
Surfing.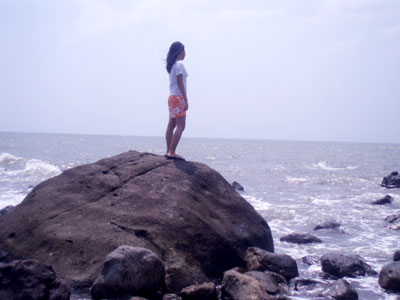 © Grace L., Bacolod City, Philippines