Scratch Fairytale New Reality
February 4, 2009
My Prince Charming, quote unquote, appeated one day.
He got on his hands and brushed my tears away.
Hugged me and told me he loved me, said he'd never
leave me but he did anyway.
My king came on day. He said he'd give me the world, the finest jewels; the very best that I his queen deserved. He kissed my hand and promised to never break my heart. Yet just as soon as he put that crown upon my head did he disappear.
My knight in shinning armor came gallantly to my rescue, to catch my tears, to rescue my heart from chains. He promised to make me believe again; to break my hate toward love.
By now I knew how the story'd go. Broken promises, broken dreams, fake possibility equals Broken heart divided by broken me. And once that dude of manly valor left me in the cold with a shield at my feet and a sword in my heart I realized love and I just weren't meant to be.
One day, when I was enjoying my own company, a man came and knocked on my heart. He was just as plain as could be, he wasn't famous, he wasn't rich. He made no far off promises that he couldn't nor intended to keep. He made a vow to love me the best he could. He taught me how to love again. He showed patience without begrudge. He awoke my smile and gradually took over my heart. And this time this man didn't have an alterior plan. This man didn't leave.
No rhyme.
From him I realized love doesn't come as a fairytale
(artifical thinking). It doesn't always have an happily ever after. There's no fireworks, no intense passion. It comes as imperfection, it comes as lessons to teach you to mold you,so that when your true love comes you will be ready and you'll get what your deserving and he or she will get you (the one molded into what they are deserving).
The world is constantly changing and so are we. I don't believe in fairytales but I do believe in the lessons they teach us. They fill us will fake dreams of reeality,they break our heart only to make us stronger. Then they break the barrier that we have cautiously put around our heart and then break our hate to ready us for our true meaning in life.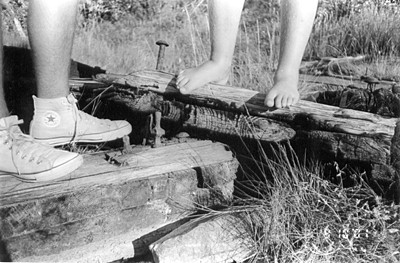 © Sarah R., Marblehead, MA