Searching For A Key
January 30, 2009
There is a lock on these lonely doors,
And I don't know who holds the key.

I even ask the question,
Who is it?
But no one will answer me.

My key must be lost'

So I Search '


I walk down the snow dusted streets
And let the icy breath of Nature
Chill these still, lonely doors.

But I still search'

As winter slowly fades away into spring
I noticed there is still no chance in those
Rejected and lonesome doors

But they stand unmoved
Not shaken, not stirred

There they stood
Solid and Strong

I travel to places far and unknown
Letting all who dare
Rattle the doors with their
Rust filled lock

But they fail

And I still press on

Never failing to let one try
To open the doors with their
Keys.

Time passes on slow and still
And with the passage of time
I watch ivy grow
On my doors

I feel they are hidden from view

No one has challenged my lock
In years

I feel barren and alone

But then'.
A change happens my way

I watch and wait as
One lone brave man
Removes his key from
A gold chain around his neck
Fitting it into my lock.

IT FITS!!!

I stand in awe
As he turns the ancient
Rusted handles

IT OPENS!!!

There lay open and defenseless
Like a new borne babe



My Heart

He takes it in his hands
And approaches me
Revealing to me
His tattered doors

As tears streak down my face
I remove a key from my own chain

Slip it in his lock

I choke up as it fits
And turns easily

Whole and complete

Into place

Then there is his heart
Just the same as mine

My Search is over'

My Key is found

I can finally conclude
With tears of joy that...

I AM WHOLE AGAIN!!!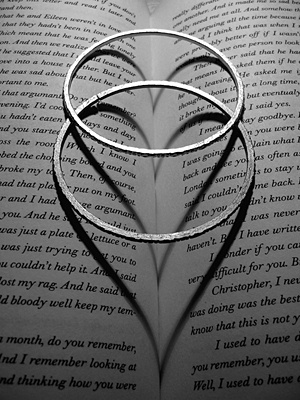 © Julia K., Old Tappan, NJ