Mistakes
January 25, 2009
One mistake after another, I constantly fall
As I pick myself up to try again, I hit another wall.
It's like trying to swim in the ocean when you've never swam before
It's like in those game shows when you choose the wrong door.
"Door number 3, please", I tell the main host
In hopes that this time, the gift won't be ghost.
But once again I leave my fans disappointed and down,
And once again in that dark, deep ocean, I have started to drown.
When you try to fly, you fail and once more hit the ground
And when you hit it, no one cares, 'cause you didn't make a sound.
No impact, no bang, no entertainment to see,
Falling and hurting, oh so, constantly.
As I make mistakes, they keep going so quietly,
I gotta pick myself up, 'cause it's my responsibility.
I keep my business to myself, 'cause no one else can truly help me,
I know myself better, and take care of me.
But, yeah, it does get lonely in the emptiness of dark,
As I look for an antidote for something broken apart.
A little bit of bandages and glue won't do,
For something so complicated and fragile.
But enough talk of…uhh…porcelain dolls,
I try to keep off that subject 'cause it recalls…
Bad memories of complex structure and rhyme
Far from anything I've written in my time.
I won't say the word, but ya'll all know the four
Letters that haunt and bless people galore.
It's funny how most mistakes are because of…cake…
It's funny how I can't even fill in the blank.
But ya'll know the feeling and ya'll see
If not, in text terms, it's 5-6-8-3.
A four letter word so simple to say
But torments you're soul in some strange way.
It's like Hades and Aphrodite work one in the same,
One god of death and one of…l***, which one's to blame?
But like I said, that's a touchy subject, so let's get back on track
Back to my simple rant about oceans, so dark and so black.
And, yeah, mistakes…like I said your responsibility
Fix them yourself 'cause it's only you and nobody
Mistakes of life…mistakes of lo-oh..I almost said it.
See I told you it's the main reason people do it,
Make mistakes I mean, but maybe that's okay
'Cause you live and learn as you pass them on the way.
It's like riding your bike and scraping your knee,
It hurts so much but then you gotta stand up and see,
Just weigh out your options to see if the pain is dare
Worth it to reach the ultimate goal of wind in your hair.
If it's a fight you want, be prepared
'Cause a fight, if good, leaves broken bones, damage, and despair.
Sure, there's a victory, but each side gets hurt,
Throwin' punches of pain 'til someone hits the dirt.
Maybe you'll come out victorious and strong,
But pain and hurt, as well, come along.
It's all worth it in the fight of life, right?
All the jabbing and ducking will pay off one night.
You'll reach the top and own like Ali,
But 'til then nobody can see what you see.
Take care of you, that's what you do,
Mistakes make you stronger and renew
Your insight on life,
Your courage to fight.
So now if i may
To you I will say...
If a mistake is bad, then all of the above
Was definitely not written about love.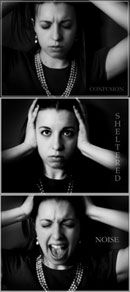 © Michelle B., Blairsville, GA