She is Lo(w)
January 24, 2009
Her name is Lolita or Charlotte
or Dolores. Or Lo, sometimes she's
just lo. Sometimes she just feels low.

She gets on the green line, switches
to the red line, ends up on the
silver line and the airport. And she
flies. Today she is Charlotte and she
flies because she feels not so low
and not so chained and not so close
to the earth.

Crash and burn,
crash and burn like an engine
to the ground because her feet
are standing on the ground, her
knees are bent, her hands swipe
cement an she's low again.
She's just Lo.

Exhale, exhale, exhale.
Please exhale because Lolita
is turning purple. Her lungs
lack air, but it is the lack
of love that turns her skin
such a violent violet. She
holds her breath to feel
contriction on her heart, just
to feel something onto such a
hollow organ.

She suffers from panic attacks.
Shaking, crying barely breathing
panic attacks. Fetal position in
the bathroom corner panic attacks.
Dolores-might-just-decide-to-be-
Lo-forever panic attacks.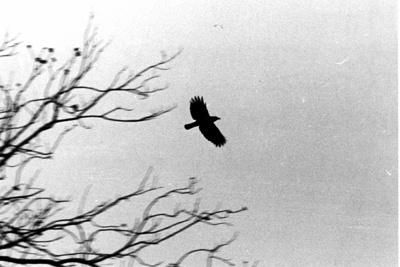 © Jacqueline T., Flowermound, TX