Meds
January 22, 2009
Whispered words of anger so the kids won't hear,

Door locked and radio up, "Go to your room dear-",

That's how most parents deal with their fights,

But instead its shouting, slammed doors and restless nights,

A young girl that knows too much,
And tries to intervene-

Only to suffer more for getting in-between-

And then one night, an empty bottle is thrown, and a mouthful
Of pills is as tight as seams,

The little girl cries and holds her mother while she scoops out the pills
And screams,

Things calm down but then her father breaks down,

The girl holds him and leads him around.

He finds the bed and grabs for something near,

He opens an orange bottle,
Setting off her newfound fear,

"Not again", she thought as she began shaking,

She then quietly wondered how many he's taking…

Desperate hands grab a handful and try to end it all,

But she slapped them from his hand and watched the pills fall-

Both her parents now, have tried to take their lives,

The flowing back memory stabs her heart like knives,

How much more will she take?

How many more times will their lives be at stake?

She runs to her room and closes her eyes,

No more will she take from this life full of cries-

She cuts the skin deep and releases all her pain,

All pain from a broken home,
And all love she wished to gain,

She slips into a trance of numbness and black,

A compulsive choice of heartache that she can never take back,

Her parents still in their room,
Too angered to care,

Not that it made a difference,
They were never really there-

She closes her eyes forever,
Her mind still thinking one last thought-

Will you ever care? Will you ever stop? I bet this will
Change things, because I'm all you've got.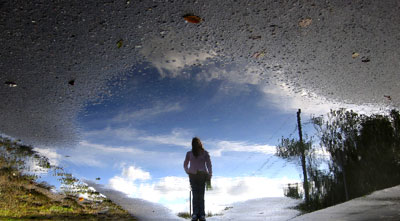 © Daniel H., Oak Bluffs, MA