Truth of life
January 16, 2009
We all know one day we will die,
Yet knowing this we continue to lie.
Well all know we will be punished for our evil deeds,
Yet we sin to fulfill our desires and needs.
We know that God is watching all, you and me,
"Heaven" "hell" but seem to be just a story……

but guess what? if we do not change today,
somewhere in the future marks my words we will pay.
Then it would be too late, no hope, no light to look up to,
So, right now before too late I am warning you…
Its high time we wake up and get our life rearranged,
Cause something once done can never be changed….
Live your live fair and nice.
Remember you live only once not twice….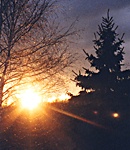 © Christy S., Germantown, NY