When Two Thoughts INtertwine
January 15, 2009
She notices that I notice that
I can see her out of the corner of my
Eyes,
As I frolic joyously with my friends.

I see her noticing me.
The tilt of her head,
The posture she creates
All says that she is aware of me watching
But does'nt know of what.

I'm wondering if she is
Jealous of me,
Sitting here with my friends.
But she needn't be,
Because most of the time
It's all a facade.

I want to know
What she is thinking about.
She probably doesn't know
That I envy her,
Because she has friends.

I tell my friends that
I need to go to the ladies room.
They all offer to go with me
As teenage girls usually
Go with each other to do
The makeup and to primp [for boys].

I see her getting up
And her posture indicates that
She desires to talk to me
If she's thinking what I'm thinking she's thinking
It's probably to meet in the
Bathroom
As teenage girls usually do.

I see her walking slowly,
Inconspicuously,
Towards me.
I'm hoping that she
Got the silent message that
I want to meet her in the ladies room.

She meets my eyes
And we smile and
I know that we are thinking
The same thoughts.

Both of us suddenly rush
To the bathroom at the same time.
We get to the door and
Breathe a sigh of relief.

I met her at the exact time
That she met me.
At the door of the bathroom.
It was such a hahaha-knee-slapping-
hysterical-tears-sort-of-funny-moment.

We go in and say
"You were thinking
What I thought that
You were thinking right?!"
At the same time

We go
"Ditto!"
And burst out laughing.

All of our stress floated away
The moment that we met each other.
It was really kinetic and instantaneous
I think that we were meant to be friends
From the very start but
Fate hadn't sought to bring us together
Until that day.

We are best friends
And each other's bridesmaids
On this
Glorious day
Because we chose to have
A double wedding
To the guys that we picked out
For each other.

We love them and
They love us
As
We love them and
We love us.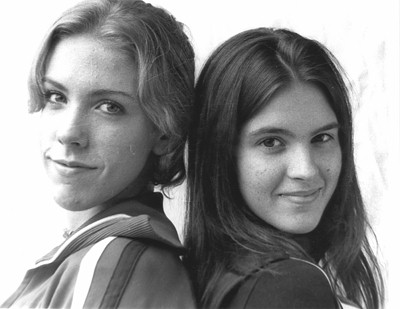 © Lara C., Norwalk, CT