The Rose
January 15, 2009
Cold to the bone,
Like stone.
I shake.
The concrete,
Beneath my feet.
I walk, and excrete, the odor of death.
The city surrounding,
While the clouds seem to linger,
Head down, nose frozen,
Every immovable finger gasping,
For the little heat I possess.

Garden beds draped with snow.
As the inches grow,
Extinguishing every life it touches.
Lushes now diminished.

I glance to see a rose.
Tiny and withering,
But belittling.
Despite its burgundy color,
Its posture so profound.
Mounded like the snow is its will.
Like a water mill, never stopping.
I see not one leaf dropping.
And for once, the cold does not affect me.
Staring, nearly glaring at the greenery,
Could it be so bold?
Withstanding the weather,
That could sever,
Nearly any endeavor,
With a quick, numbing breeze.

I rid the lack of self determination.
Now engulfed with inspiration,
I continue my walk on the hard, cold surface.
And like a dream, I pursue,
With an upbeat stride.
And a rose forever more on my mind.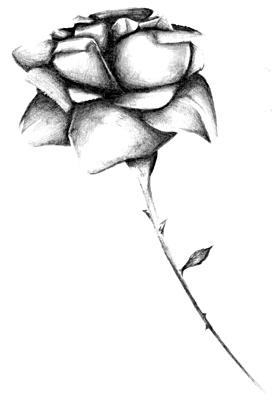 © Yisrawayl G., Philadelphia, PA