Who Told you to Leave?
January 15, 2009
Yvonne, you kept everything together
like a grandmother's suppose to,
now that you're gone,
I struggle.
Going on six years without you.
I've been stiff.
Yvonne, I've been anticipating my breaking point.

I wake up every morning and wonder,
why such attitude, Yvonne?
(You left us, remember.)
Yvonne, I'm always confused.
Yvonne, who told you I didn't want you here?
They lied.

Yvonne, where do all my future goals and dreams lead me?
You should look into that.
Yvonne, I'm not young anymore,
I speak and walk on my own now.
I fall by myself and get right back up.
I wander around like I'm on top of the world,
but in all honesty, I'm closer to the bottom
only because you just had to leave.

Yvonne, one day I won't be ashamed.
I'll just tell Sonja to stop smoking/drinking.
It'll save Sonja some time in life,
maybe it could have saved yours.

Yvonne, every bill is on my tab.
But when will I get paid?
When will I be saved?
Why not me in that grave?

Yvonne, everybody's doing well for now.
Buffalo still cold,
and Pittsburgh's not that far behind.
Gabe working hard,
Toni still around,
Greg still ain't,
Moop turned eight today,
and Alani is a mess.
Yvonne, if you had stayed,
you probably would have met Gabe's little angel.
She got your name and face.

Yvonne, DeVaughn got a job
but then lost it.
It's more your fault because he's nothing without you.
And with you not here, Yvonne,
neither is that boy's mind.
He went back to school, well took that one test,
he got a piece of paper saying he's smart.
We all knew that.
Just hope the world can look past his record.

And Yvonne,
ever since you left
everybody wanted to follow.
Everybody was scared to miss you.
Yvonne, I miss you.
Yvonne, who told you to leave?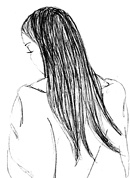 © Miranda B., Neosho, MO