On beautiful Heart
January 13, 2009
This is the only one that truly completes me. I am the only one that holds it. One beautiful heart with warm hugs and meaningful I love you's. One whose meaning is something else but something that belongs here. One stupid mishap, shot from ragged feelings but soon resolved with a light I'm sorry. From the living room it beats, but I can not here it for I am fast asleep.

The feelings are strong with an immense trust. This sends a parade of extraordinary sparks through my veins. This will grow up with me and take hold of what makes mine and its own absolute and never refrain from trying to make me whole again. This is how this loves me.

Let one not forget his reasoning, this will by no means let go of me, together with are arms around each other. Stay, stay, stay, the heart says when I rest.

When I am too cheerless and it knows how to keep me staying, when I am a wee bit under people, then it is I, one and one with a beautiful heart. When there is everything to look forward to, one which made another one mature. One who reaches and does not forget to reach. One whose only reason, is to be, with me!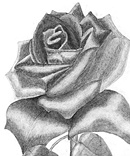 © Nghi L., Phoenix, AZ