Summertime
January 17, 2009
Its summer time again.
Remember how irresistibly in love we were.
How we couldn't stand to be away
From each other for more than five whole minutes.
How every time our eyes met it was like
There was no one else there but us.
I remember how my stomach would
Turn into butterflies
And how uncontrollably weak
My knees were
When u called my name;
Or waiting up all night for that forbidden
Knock on my window and
Sneaking out to lay under the stars
With our bodies so awkwardly intertwined
That every time we moved
Our bodies would still be touching

And then fall came and I
Couldn't help but
Fall deeper and deeper
In love with you.
Remember I called you
"My Knight in Cozy Jacket"
Just because
Every time you saw me shiver
Just a bit
You'd offer me your jacket
Saying you could stand the cold
As long as I stayed right by your side.
Little did we know that
That was the peak of our perfect relationship
And everything after that would come
Tumbling down like the leaves
Falling from the trees leaving them bare.

Then cold harsh winter came
And I couldn't help but hate
Everything that had to do with you
Everything that reminded me of you
Everything about you.
The way your smile lit up the whole room
Or how every time I saw you
My butterflies would start up again and
I could see a smile start to spread
Across your face
Then I'd remember Her.
The reason for all my suffering.
There she was smiling at your
Melody of a voice.
I couldn't help but feel angry and jealous,
Because every time I looked at Her
All I could see was your precious lips
All over hers in our private stairway.
And the way your eyes were
Full of sorrow when you noticed
I was standing there.
And she, she was just standing by your side
With a devilish smile
Because she had finally conquered
My army and you were her prize.
Jealous because I could only
Imagine how great she felt
To finally have you to her self.

Spring came around
And slowly but surely
I got over you
Realizing how foolish I
Was to waste all April
Showering my pillow with my tears.
In May I bumped into this
Cute, clever, caring guy
…yeah in our private stairway
and there you were
Exactly where I stood not too
Long ago and from the look
In your eyes you could see
What I could see
Another summer romance
Beginning to flower.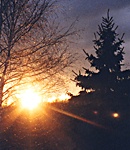 © Christy S., Germantown, NY