Give Them Your Senses
December 30, 2008
Give Them Your Senses

I've seen it oh so many times.

The light into darkness,
the darkness into light.
From youngest of the young,
To the oldest of the old,

They're dying.

Molding into a shape like no other,
Molding into things we use as weapons,
Bazooka. Machine Gun. Rifle.
BOOM!
Another… and another.
Gangrene gangs of gangs are fightin',
Multiplying.
Enumerating each move they make.
Every life they take.
[Grown and deceased] on 56th and Delridge,
Everybody blinder than moles.
Red stains covered an innocent,

In days of yore.
What's happening, the world?
Its struggles in its obstacles to the
Battles of wounds
and…
wounds
and...
wounds.
Blindness. Deaf. Mute.
What we are, a human race of
Hospitalities, abilities,
A myriad of facilities of
Disabilities but,
Capabilities we have, concealing it.
We're blind. No, we can see.
We're deaf. No, we can hear you.
We're mute. Well, I can talk.
A million times over, what we can do to
A million times under of what we can't.
We can't, oh hatred.
Get over it!
Be a bit smarter, the non-starter.
Spotlight, in the eyes of the human,
On rags of the youngest of the young,
Canes of the oldest of the olds,
Dropping silvers and cents into,
Not fountains of already joy, glory, and green,
But into the palms of youth in cardboard boxes.
Open your eyes to the dark that needs light,
Open your eyes to those who're not seen.
The voice of those who cannot speak.
The ears of those who will not listen.
We, a race of an ulterior motive to look,
Into, not killing.
But saving.
Innocent lives against those who are causing,
Save them.
Like MLK conversing of
Conversations over confrontations,
And capabilities over disabilities, of
Can's over can'ts.

Oh how I've seen it,
The light into darkness,
The darkness into light.

We are here to do it.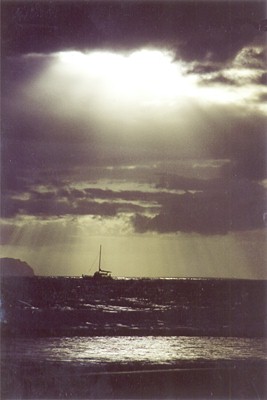 © Lily H., Kekaha, HI