Peter and his Mother's Pantyhose
MAG
October 17, 2014
Peter, mumbling, crawled through the bush
of mustard-colored flower buds sprouting
to settle in rain-soaked vibrating hush
broken by his mother's scattered shouting
for Peter to come back to her, quick, run –
but he only burrowed deeply his nose
into the dirt's roots, like he was its son,
and rubbed his fingers on his mother's hose.
He'd stolen it from her dresser drawer,
twined it round the fingers of his left hand,
and then tiptoed out the back porch
screen door
to gasp in the scent of vibrant green land
crawling with lively, squirming,
buggy things
and sprouting all over with stem and bud
and to breathe the sound of fluttering wings
as his ten bare toes squeezed hard through the mud.
Once he'd found his own special
hidden place
Peter burrowed into his mind and out
of the normal buzzing, chattering space
where his mind had twitched and winced with self-doubt.
With the crickets' chirp and cicada's hum
buzzing in his ears he could away break
to the overpowering damp earth sun
seeping through his neck's skin in a
slow bake
that contented him to sleepy floating
and resting his heavy head against his knees
like when he curled in a ball on boating
trips with his parents as the swift breeze
swept past his shuddering skin, pale
and quaking with fear at the chopping waves
rough like they'd been slapped by the tail
of a whale, sending them to early graves
because they'd dared to venture out
into the great vast heaving she-creature
that was the ocean, the route
to uncertainty, that great feature
of every day he'd yet lived and
always feared except when curled
under the bush with hose clutched in hand
so his thoughts felt more settled,
less whirled.
With nylon between his skinny fingers
Peter felt the world sift through the tiny gaps
until the only thought or worry that lingers
is one that watches the time elapse.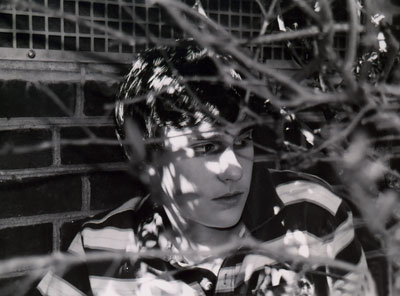 © Kyle W., Pompton Plains, NJ