Snow Storm
December 19, 2008
Light becomes scarce; Dark closes in
The days shrink; the night grows
Life disappears and freezes in the morning
Ice crystal breath at dawn
Bitter colors of yellow, red and orange pierce the trees
Leaves twirl in a dance of death, hitting the ground laying still and rotting
Frozen ground no longer thaws, insects disappear.
The moon grows bigger, the nights cloudier, a storm is approaching
The darkness seeps across the land, covering everything in a shroud of dark gray of cold peril.
The wind, silent, deadly, crawls across the ground searching for victims
The murderous sky growls and flaunts its wicked beauty.
Lightning, burning hot with revenge scrawls untidy lines into the sky.
As if crisscrossing lines of blood are opened rain, ice and snow hurl down towards the ground.
Remaining leaves shatter as ice pellets fire; the ground oozes as water rolls across the chilled ground; And the snow, thick and endless. Turns the world into a whirling pillow cut open. Soft and musty the edges begin to muddle and mix, like a paining with spilled water.
The storm stays and builds and builds, the ground disappears and everything is buried by pounds of fluff endless white.
After what feels like a decade the storm dies and clouds twist there pained cries in the skis
The world we once knew has changed into something cold and, indifferent to us. Stranded in a world of fluff.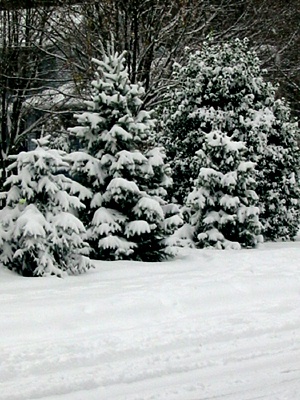 © Kristen S., Sewell, NJ