Undefined Nightmare Of Happiness
December 11, 2008
I sit here and comtemplate as all time passes by
in what seems sooner than a heartbeat
The tunnel closing in no more space for air
Feeling the dilapidation of my lungs which are now barely there
The dillema now at hand is should I let my heart diminish
Demolish, deteriorate before my very eyes
Or do I fight it for dignity with NO disguise
Cornocopia of masks...each more ellaborate and deceitful
My heart has declined in quality but still not see through
You like to think that I'm not there
Like i'm oblivious to what and where WE used to be
Completely visible to the naked eye
but non - exsistent to what the heart sees
Feelings, falling, letting the little amount of
time that is left slowly slip away
Slip out of what was thought to be a firm grip
There's nothing left to say
Grasping like a clasp thats about ready to snap
Fingers gnawing at my flesh like a hungry rat
It's you...I'm your human life line and your slipping
I ponder whether or not to let you drop
and watch as your falling
Just as I begin to obtain my sanity...
The clasp collapsed and you got smaller
and smaller somewhere below me...
I dive in after you...as much as I hate to admit
I need you
I can't hold on any longer the tunnel is narrowing
I think I'm done but then I see you
The tunnel then expands and is now full of water
Just as I begin to gasp for air....I go under
Where am I? Where are you? I awake in a cold sweat
I stare at the digital alarm clock by my side
What at first seems like forever
is then gone....it's all lies
I spend my night isolated from the world
trying to block out all the unwanted noise
The phone rings... I don't want to answer
But I do... Then I hear your voice...
Conversation that seems to be heading
in no specific direction...I hear "I Love You"
And I smile while my heart quickly tries to assess the situtation
Time is slowing down again...I don't know how to reply
Such extreme feelings for such insignifacant people..
I won't hurt myself again.... The words are lethal
They realease the difference....a good yet bad change
The unknown distance between like and love is a wide range..
I find my self falling....constantly....falling in love with you
Without ever falling out...It seems difficult...
My mind doesn't understand it either...I dont know why i love the 3 time cheater
Its something about him... A certain spark from deep inside
I cant seem to make my heart and mind collide
IF i could focus, concentrate on what i feel
I could figure out why my dreams seem so real
He is my reasoning, my insanity, my diesease yet my cure
the feeling of security but still being unsure.
He is my better half and I am his....So why fear it?
Why fear my undefined nightmare of Happiness?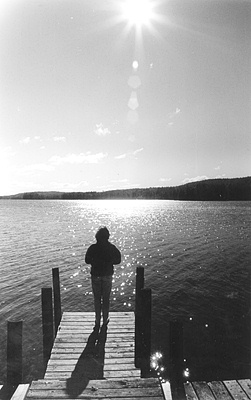 © Beth S., Marblehead, MA