Jung Was an Interesting Character
August 13, 2014
Tiptoeing around the word "you" is hard:
I know longer know who "you" are anymore,
But every time the phone rings,
I pray to a man that I don't believe in
(Because he gave me no reason to)
That you're not on the other line
Because I can't help myself-
I tie the word "you" to every sense I have,
And I'm sorry that I hold out that hope to screw myself over
For those whose minds block me from running through
(Like you).

I can feel the dead butterflies rise like bile in my throat,
And I can no longer breathe-
The desperation fills my lungs with every heartbroken drag,
And now the inside of my ribs are bruised black and blue
And my heart's knuckles are bleeding,
And there's no EMT to be found.

I'm a hypocrite in a life of promises
Because I can be better for "you",
But I lack a penis and a heartbeat,
And my knuckles haven't been ripped open in a long time,
But ten pills still seem like a better excuse to feel better
Than you ever could.

Now I'm sitting here twiddling my thumbs because I've got it:
I do not posses emotions,
But I mean motivation.
It's just what came out first,
And I have Freud to thank for that.
Those two shots in the dark are what I want most in life-
It makes the fact that I want t slit my throat seem easier to explain
Than saying "I need to breathe"
Because there's an absence of love in the air,
But I'm also a pathological liar
(I learned that one from you)
Because that's all I feel,
And like cigarette smoke,
It chokes me,
And I cant find enough oxygen to take into my body
To grasp it,
And notice the word choice of "grasp"
Because I want to hold it as tight as I can
(And when I say "it" I mean love)
But I can even hold my eyeliner without my hands shaking,
Wishing I was making martinis instead,
Because I can't stand to let anyone see me without a shroud of black covering my eyes,
Matching the color of the soul I don't have,
Or,
The soul I don't let people think I have,
And frankly,
I'm not entirely sure which one is more accurate.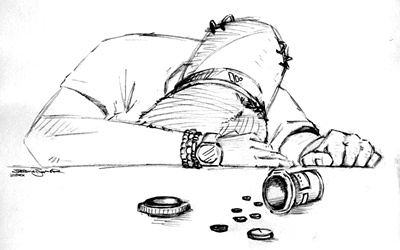 © Jeremy B., Austin, TX