Apple Cider
December 10, 2008
Creaking, Eerie, Taunting House,
Menacingly stares at you as you pass by,
Tormenting your mind forcing you to stare at it's sinister beauty,
History of deaths,
and undeserved pain,
The house depicts a feeling of restlessness.
Looking at the ancient vaguely transparent curtains,
And the vintage brightly colored lamps,
And the back of the couch with the musty blanket draped over it,
You hear the innocent record play the theme song to a 1940's romance.
The house with the old woman inside with her twenty cats who replace her empty widowed soul.
She always made the sweetest apple cider,
Mr. Jones always adored,
But since he is no longer able to drink the cider,
Mrs. Jones hasn' made it in twenty-five years.
She then sees you looking at her house,
And starts trembling violently,
Feeling her hatred you run,
Betrayed by your ever curious mind that lured you there.
But if one wandered into the house,
One could find the root of Mrs. Jones widowed heart,
For his decayed corpse lies on the basement floor,
Still listening to the song which they first danced to.
And too bad Mr. Jones could no longer enjoy the cider,
For an unfaithful husband doesn't deserve,
Mrs. Jones apple cider.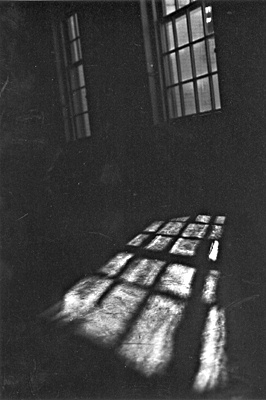 © Mary A., Fullerton, CA